DIE KATZEN MUSIKALE
----
Helgi Þórsson
----
30.06 - 01.07 2012
----
Die Katzen Musikale byggist upp af nokkrum elementum. Á henni gefur að líta málverk, myndir málaðar beint á vegginn, skúlptúra og einn stóran kött í miðju herberginu, köttur sem ætti að vera kötturinn sá er gefinn er upp í titli sýningarinnar. Þessi sýning er gerð fyrir útfjólublátt (e. blacklight) ljós sem hefur þau áhrif að litirnir virka lýsandi eða eins og neonljósaskilti. Málverkin eru gerð svipað og skafmyndapappír, þar sem listamaðurinn skefur svarta húð ofan af marglituðum bakgrunn. Útfjólubláa ljósið og kontrastinn milli svarta litarins og þeirru skæru virðast óraunverulegur í auga leikmannsins, gera áhorfendur kolringlaða og þótti mér sem ég væri staddur í öðrum heimi eða jafnvel flakkandi á milli vídda inní í sýningarrýminu. Jafnvel leið mér sem ég sjálfur væri á sviði kattarsöngleiksins margkunnuga þar sem stóri kötturinn gekk berserksgang?
En það er eiginlega ómögulegt að vita hvert listamaðurinn er að fara með þessari sýningu og á henni ekkert lesefni er að finna en hér eru vísanir í listasöguna, alkemista og nýaldar trú, það er víst að listamaðurinn fær áhorfandann til að svífa á flakk inní í myrkrinu. Reyndist mér erfitt að slíta mig frá sýningunni og vildi ég helst fá að eiga heima þarna inni.
- Goddur
Helgi Þórsson er fæddur í Reykjavík árið 1975. Hann hlaut BFA gráðu í myndlist frá Gerrit Rietfeld Akademíunni í Amsterdam árið 2002, nam Sónólógíu í Konunglegu Konservatoríunni í Haag og hlaut árið 2004 MFA gráðu frá Sandberg stofnuninni í Amsterdam.
----
Die Katzen Musikale is built up of several elements. Paintings, images painted directly on the wall, sculptures and a large cat in the middle of the room, the cat that could be the one given the title. This show is designed for ultraviolet light which has the effect on the colors that they start to glow, as neon signs. The paintings are made similar to picturescratch paper, where the artist scrapes the black layer off a multi-colored background. The ultraviolet light and the contrast between the black color and bright ones make the audience totally confused and I felt that I was standing in another world or even move between realms in the exhibition space. Even, I felt that I was in the field of the popular feline musical where the big cat went berserk?
But it is impossible to know where the artist is going with this exhibition, no writing is available, but there are references to art history, alchemists and New Age beliefs and it is certain that the artist gets the viewer to fly away in the darkness. I found it hard to tear myself from the exhibitions and wished I could live inside there.
- Goddur
Helgi Þórsson (b.1975) was born in Reykjavík. He studied Sonology at The Royal Conservatory of The Hague, received his BFA from the Gerrit Rietfeld Academy in Amsterdam in 2002 and an MFA from the Sandberg Institute in Amsterdam in 2004.
----
VIDEO
https://vimeo.com/128309112
PRESS
http://timarit.is/view_page_init.jsp?issId=376493&pageId=6130048&lang=is&q=Kunstschlager
----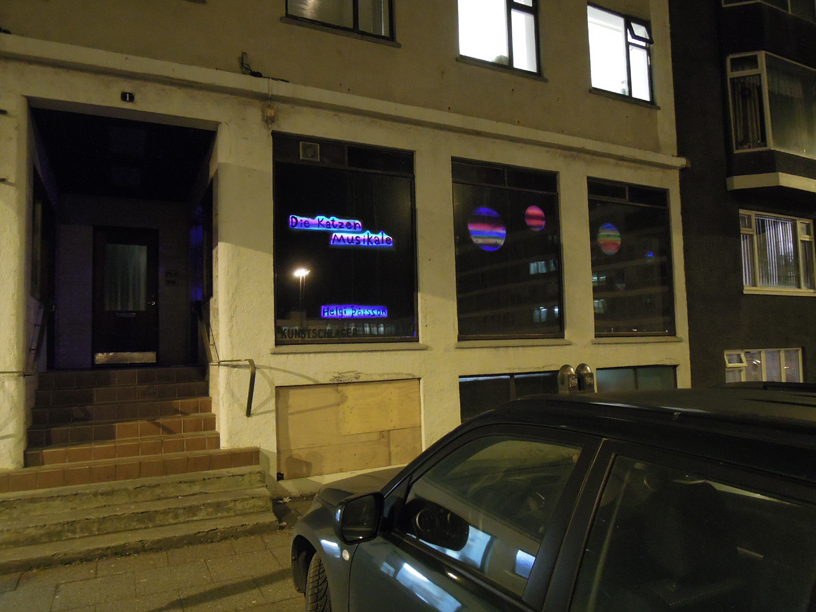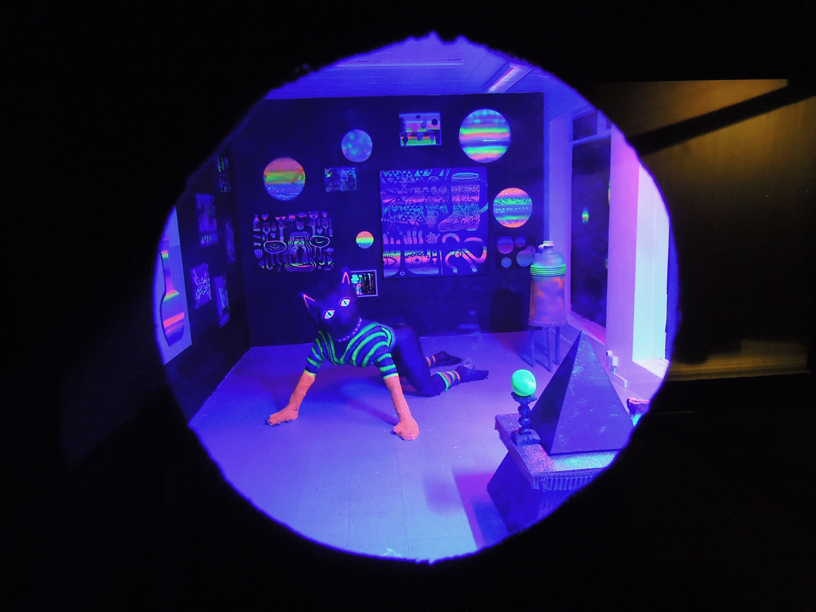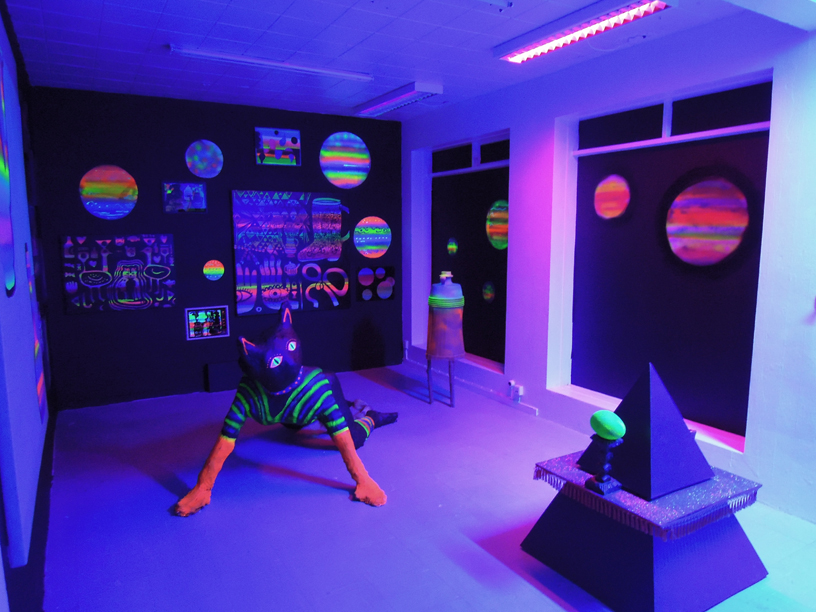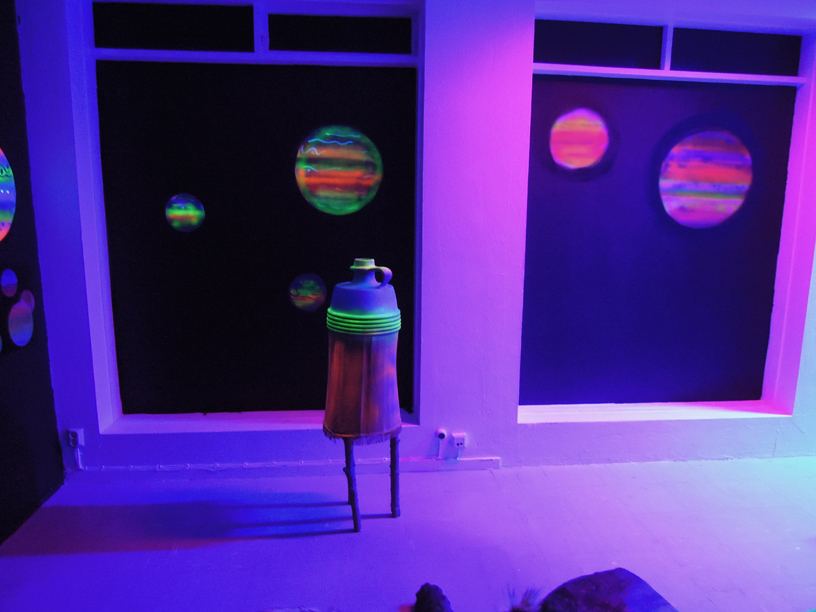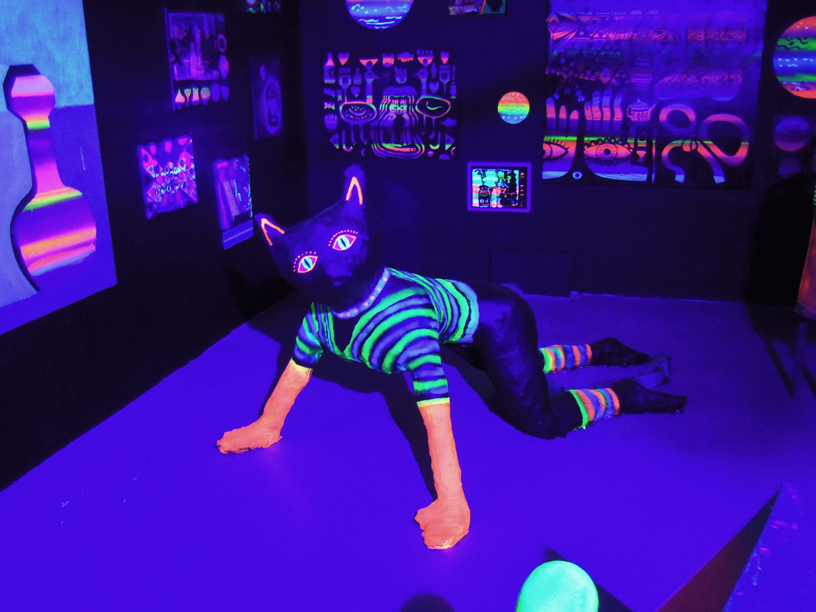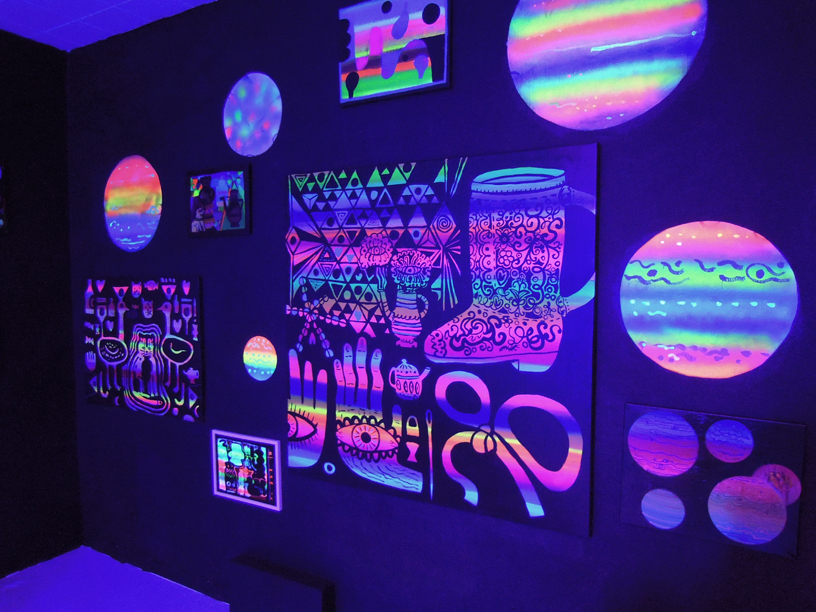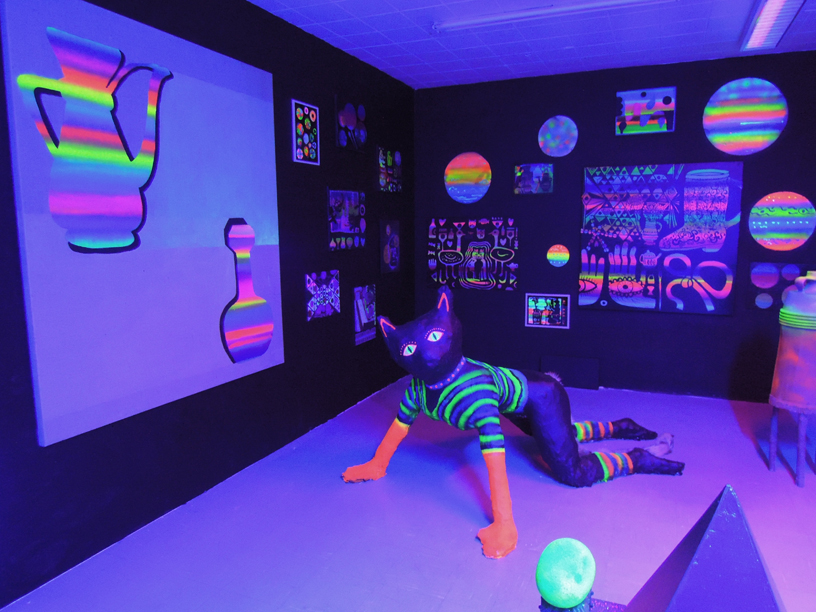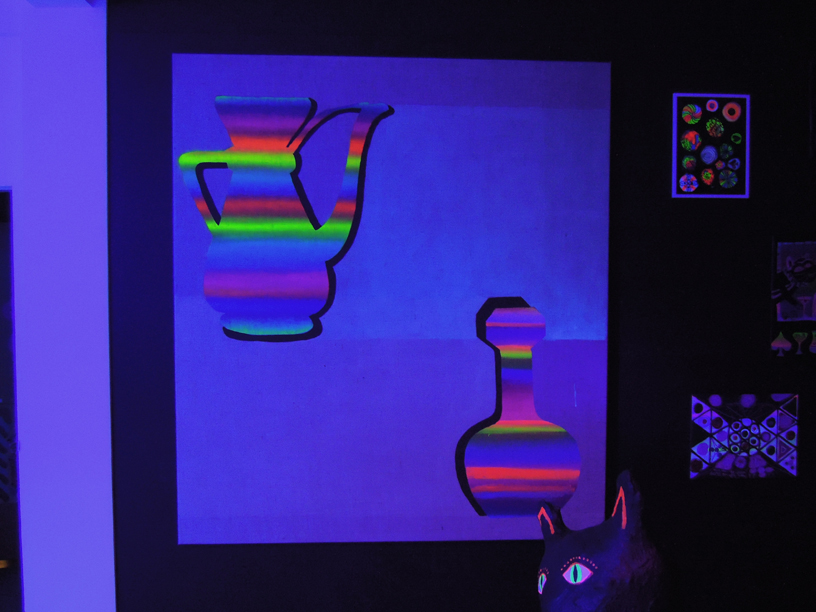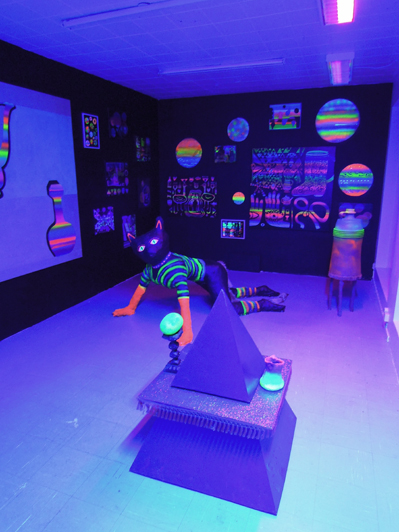 ----
Póstkort sýningarinnar
Postcard of the exhibition